I've made many journey's to visit the Leach Pottery, first as a student on my motorbike in the early 70's and later with my son more comfortably in a car. I found it a place of inspiration, learning and history.
Bernard Leach, a famous figure in the world of ceramics, was more than a studio potter. He was a leader; a teacher of aesthetics and excellence, from whom generations of potters took their inspiration and example.
He was born in the Far East of English parents, but sent to school in England. After his studies in drawing and etching at Slade School of Art, he returned to Japan taking with him an etching press with the intention of being an Artist-Printmaker. His passion for Pottery came almost by accident, when a friend invited him to attend a Raku party, where he decorated his first pot and was hooked. He then began to study pottery under the Sixth Kenzan. Later Bernard and his fellow student, Tomimoto, jointly inherited the title of the Seventh Kenzan. Bernard being the only foreigner to have ever been awarded this title.
Bernard continued his printmaking, as well as the pottery, however his prints were not very popular in Japan and largely went unnoticed. Bernard returned to England in the 1920's and set up his, now famous, pottery in St. Ives. He brought back from Japan his etching plates and they were stored away in the attic of the pottery and forgotten. After Bernard's death in 1979, Trevor Corser, the last of the Leach apprentice's, rediscovered the plates. The plates were printed in limited editions, and sold in St. Ives, two of the prints I acquired, one shown below.
I think his etchings and drawings show as much insight as his pottery, though they are less well known – He was also a poet!
A Japanese Landscape (soft ground etching)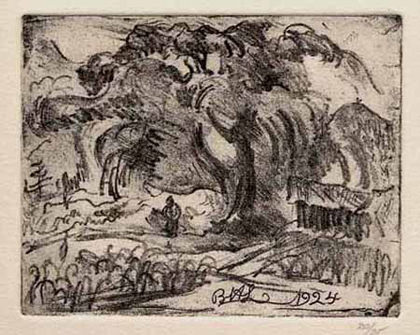 Letter to Ceramic Review – March 1999 No.176
The Leach Pottery
I was interested to read your editorial in CR171 about the Leach Pottery. My son and I spent our summer holidays this year touring the West-Country. We visited the Leach Pottery in St.Ives, and the present potter (Tevor Corser) there was kind enough to show us around. I was fascinated to see the original kiln and workshop that Bernard used. What struck me the most was the fireplace; the mantelpiece was just as Bernard had left it, with the two Chinese figures set into niches each side. I gathered from talking to other potters we visited who had worked there, it was around this fireplace that Bernard would gather his students etc. and tell tales of his travels and talk about life, the universe and everything, for long hours – what a time it must have been. I agree with your editorial that the Pottery must be preserved for our heritage and funds must be found to achieve this. I was very impressed with the way Barbara Hepworth's house, studio and garden, also in St.Ives, has been conserved for prosperity. This sets a fine example of what could be done to the Leach Pottery. David Fry 1998.
Postscript 2002 :- The Leach Pottery has now been taken over by Alan and Sally Gillam from St.Ives. Since then a renewal and refurbishment program has taken place, bringing a new lease of life to this important heritage site. Potting continues, now in its 82nd year on the same site.
Later Postscript – March 2003 The Gillam's are now selling the Pottery and there is a campaign to save the Pottery for prosperity .

Project complete – 2010 The Leach Pottery and museum has now been fully restored and is open to the public – see the LeachPottery web site.
Bernard Leach's Studio Fireplace in 1998 (photo. Sam Keating-Fry)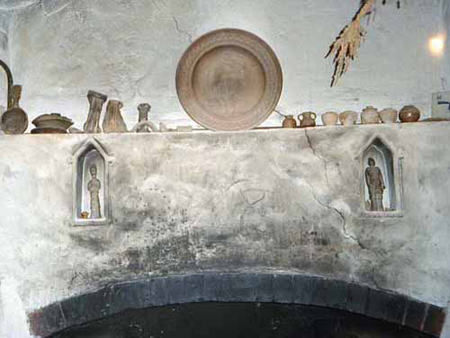 Here's an intersting film of him making a pot
http://www.youtube.com/watch?v=IxpcUnquXJI&feature=fvwrel
One of Bernard's poems..
THIS CLAY
This earth upon which we stand:
Of which we are made:
Of which we make pots;
This volcanic rock,
Eroded, exploded-ashes to ashes.
Earth quivers in Japan,
Shaken by internal fires.
It grows bamboo shots,
A foot a day-
June sends them up roof high.
In Cornwall we live on ancient granite rock
Standing against Atlantic surges,
Feet firm upon a ground that grows no trees
Whilst all winds blow.
Northern clouds roll
Over a rolling sea
And wrap our granite hills in mist,
Grass grows green throughout the year,
And spring comes stepping tenderly
With flowers along our rocky paths.
When I go back
Memories will wake with me at dawn
Of waters running fast
From mountains to the sea.
I shall see the maple burn
Upon the slopes,
And the cheery fall, in dreams.
My friends, no doubt,
Will talk of me, but I shall not go out
At night and feast with them
On beans and fish,
On buckwheat and on flesh.
The wonder of the rice fields
On all flat land
From coast to coast:
Women in spotted indigo
Bending over the earth,
Tending it with love
As if it were a child:
Anxious old farmers peering
At their crops early in the morning,
Or as night falls.
Blue smoke rising to the mists
Which wreath among the pine clad hills:
Twinkle of silver bird-scares
Hung across the ripening grain:
Voices of semi (cicadae) and of frogs-
Frogs in the mud.
Clay spinning on a potter's wheel
Spinning like the earth and the stars,
Man spinning the clay into stars.
Life spinning the man – LIFE.
Bernard Leach – Japan, 1962