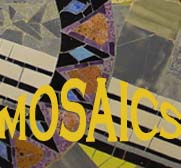 The Mosaics Project at Newcastle Arts Centre 1983 – 88
The project was originally set up to run alongside the Tile project with David Fry as the team leader, however it soon developed into an independent team of artists with its own leader(s) .  David Fry established all the making and firing techniques and continued with this side of it for the 5 years the project ran.
The making, firing and fixing techniques were all worked out and developed on the project, and resulted in a unique and original way of producing wall mosaics.
The designs were all created by individual members of the team.
Many techniques were used in making the mosaic pieces; some pieces were from broken or cut ceramics and pottery ready fired with colour or pattern, similar to the Gaudy method in Spain. Other pieces were pre shaped in clay and 'Raku' or 'Earthenware' fired on site.  By far the most common method  was to  enamel  and re-fire  commercial  white glazed tiles and cut  them after firing to specific shapes. The end results were spectacular , and we produced among other things, the most famous Loos in Newcastle!